I spent the night at a good friends house last night who happens to have her own chickens in her back garden; which with my over active imagination, specially for a project has now got me thinking. The last couple of weeks i have started thinking about what i am going to do in terms of growing the grass back. Well... if i have chickens i wont need to bother!!!! They can occupy the area whist we live here and then ill just put the ugly stones back down when we go!! I am going to get Scott to email our landlord later and see what she says, as long as we put the garden back together again when we leave i really don't see why it would be a problem... she has no idea i pulled all the stones up as it is so the damage is kinda already done anyway..
I have been looking at houses for them all afternoon and can't decide whether a house and a run is a good option or just to buy a house and make a run myself.
The premade runs look so small. Ok i only want 2 chickens but i would feel mean if they didn't have a lot of space. But then can i really be bothered to make my own pen around a house? The houses are nice but that it much more work... I guess it would completely come down to price!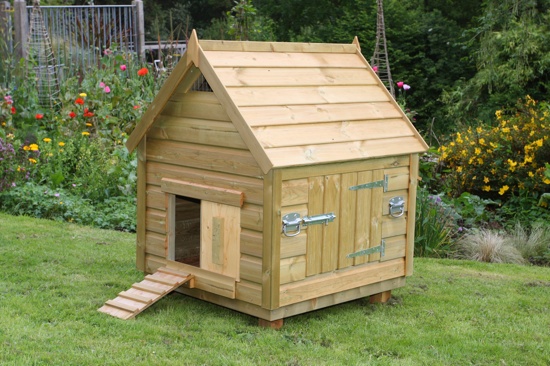 This one is made for 6 birds so i wouldn't need one that big.. I'm not sure..
OK so ill need:
Housing
An area for a run or pen
1 feeder (or more depending on how many hens you're keeping)
1 drinker (or more depending on how many hens you're keeping)
Feed bin (safe from pests and vermin accessing it)
Feed scoop
Bedding
Nest boxes
Food Suppliments and Medical Supplies...
Poultry tonic/spice (vit and mineral supplement)
Citricidal (good for colds and coughs etc)
Cider vinegar
Anti-mite/lice/flea powder
Flubenvet or Verm-X for regular worming treatment
Vaseline
Limestone flour or Davinova C (Calcium supplement)
Garlic powder (helps keep hens in good health and also reduces the odour from the droppings).
Websites to remember:
http://www.henkeeping.co.uk/general-care.html
http://www.rspca.org.uk/allaboutanimals/pets/farmanimals/chickens